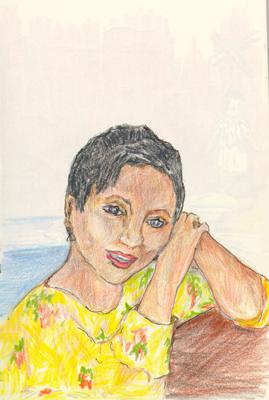 Miriam Makeba Brown
(Dream Healer)

At age sixteen, Miriam is one of Maria's closest friends, and she is a friend to Sueño as well. She and her mother and her grandmother live in an apartment building near the shop that they own in Tacoma Park, Maryland.

When Miriam was younger, she and her mother lived in the same neighborhood as Sueño's family does, but her mother used the money from her job as a night clerk at the Shoreham Hotel to rent a little space in Tacoma Park and start an African import store.

Miriam hates it when people just assume she is African-American because, in fact, she is South African, or at least her mother and grandmother were--her father was too, before he was shot during a holdup of the taxi he was driving, when Miriam was five. He, Miriam's mother, and Oba, father's mother, fled South African apartheid. Miriam, named after the famous South African singer, Miriam Makeba was born here soon after their arrival.


Miriam is proud of her heritage, and is learning South African healing traditions from her grandmother when they work together in the store. Ever since she was thirteen or so, Miriam has had dreams about healing people. Now she is learning how to heal with herbs and energy. The dreams scare her a little, but Grandma Oba assures her that Dream Healing is a tradition in their family. She encourages Miriam to learn as much about Western medicine as she can too, and maybe even become a doctor.